Dengue Deaths Force National Alert
Health authorities in the Philippines have declared a "national dengue alert" after a spike in cases of the viral disease which has left more than 450 people dead since January. Around 100,000 dengue cases were reported across the Philippines in the first six months of 2019, an increase of 85% on the same period last year.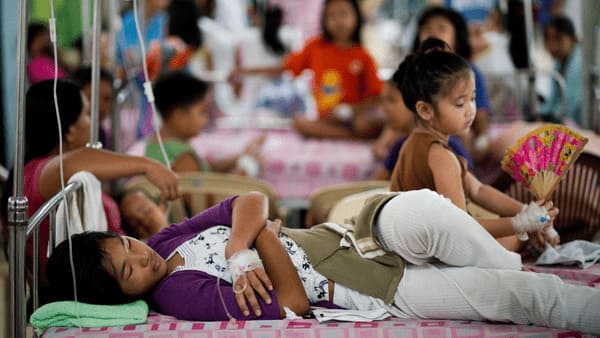 Dengue Infected Patients In Manila Hospital
Thailand infection rates climb
With Thailand facing its worst dengue outbreak in half a decade, people of all ages have been advised to protect themselves from mosquito bites and control the Aedes aegypti mosquito population.
The Department of Disease Control (DDC) has assured that the authorities are fully prepared to cope with the dengue outbreak, but the department's Vector Borne Diseases Bureau director Dr Cheewanan Lertpiriyasuwat cautioned that the current dengue outbreak situation was worrisome.
She said everyone should protect themselves from mosquito bites to avoid being infected with dengue and slow down the spread of the disease.
According to the recent situation report of the Bureau, in just the first half of this year 40,402 dengue cases had been reported in Thailand, 1.6 times higher than in the same period of 2018.
Due to the significant rise in dengue cases this year, the Bureau estimates that the prevalence of dengue in Thailand has jumped from last year's figure of 38.6 persons per 100,000 population to 61.16 persons per 100,000 population.
The Northeast was found to have the highest number of dengue cases in the country at 17,679, while Ubon Ratchathani province had the most serious dengue outbreak, with 1,944 patients under observation during June and a disease prevalence rate of 104.16 persons per 100,000 population.
It was also found that the mortality rate from dengue was higher this year with 58 people losing their lives so far after being infected by the mosquito-borne disease. This is a sharp rise from 33 deaths in all of 2018.
"Considering the current rate of infection, we are faced with one of the most severe dengue outbreaks in recent years. The number of dengue cases in the first six months of this year is already higher than the numbers reported in an entire year during the last half a decade," Cheewanan said.
Disturbing Dengue Infection Statisticsl
What is Dengue and what are the symptoms?
A mosquito-borne viral infection, dengue causes flu-like symptoms, including piercing headaches, muscle and joint pains, fever and full body rashes.
Of the millions of people infected with dengue every year worldwide, an estimated 500,000 develop severe symptoms requiring hospitalization, and of those some 12,500 people die, according to the World Health Organization.
Dr Mukda Wangworawong, a dengue expert at the Queen Sirikit National Institute of Child Health says "The best dengue prevention methods that everyone is encouraged to follow are to avoid mosquito bites and eliminate spawning grounds of Aedes aegypti mosquitoes. This is the most effective way to keep dengue outbreak under control," she said.
Dr Mukda Wangworawong,also stated that the sharp rise in dengue infection this year was not totally unexpected for the Thai medical sector and authorities, as dengue outbreaks normally recur once every two years. is already higher than the numbers reported in an entire year during the last half a decade," Cheewanan said.
Medical insurance options for expatriates and travellers
Suffering a dengue infection is not a fun experience.
The infection can be very debilitating, the effects of which can last weeks and months.
It is very typical for an infected individual to have to spend 5 to 10 days in hospital in order to receive treatment and monitor progress. Such hospital stays can become very expensive and easily run into thousands of dollars.
Make sure you have adequate insurance cover in place if you are travelling to countries and areas where mosquito borne infections are prevalent.