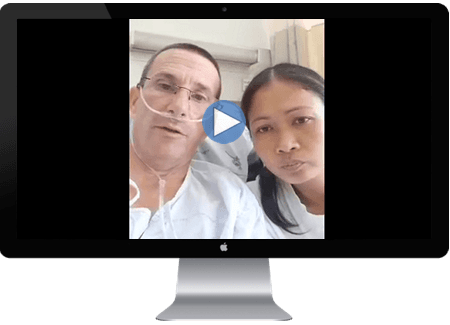 British National Graham Briar highlights the risks for foreigners living overseas without health or medical insurance.
Graham Briar, a Thailand based video blogger has suffered a critical illness and urgently needs a triple heart bypass operation.

However with no medical insurance and not enough money to pay for surgery he finds himself in a nightmare situation in a Chiang Rai hospital.

Graham, who has been broadcasting about his current situation live on YouTube, says that doctors have told him surgery will cost at least half a million baht (USD 16,000) or as much as one million baht (USD32,000) - this needs to be paid upfront.

In mid January, Graham uploaded a video titled 'Heart of the Matter' where he revealed he had been experiencing a shortness of breath and chest pains.

In a second video posted six days later, which now appears to have been removed, Graham talking live from his hospital bed explained that after visiting a local doctor he was advised to go to hospital where it was confirmed he had suffered a heart attack.

Another video posted on January 30 titled Heart Issue Update (see below), Graham, with wife Pie by his side, explained that his worst fears had been confirmed and that he was in need of a triple heart bypass.

"Two of the arteries have already collapsed and the third is down to about 10 percent", Graham says in the video.

He is requesting subscribers to his channel for donations via PayPal to help pay for his surgery.

Graham adds that he has already used all his savings.

"If you would like to donate, Pai and I would be more than grateful", Graham says.

He puts the fact that he does not have health insurance as "just one of those things".

Graham, a former smoker, vlogs about life in Chiang Rai where he lives with his wife Pie and son Fam.

Graham's YouTube channel has over five thousand subscribers, many of whom posted messages of support after hearing about his health troubles.

However, some subscribers questioned his decision not to take out health insurance.

Whatever your opinions and feelings are on Grahams plight we advise that everyone residing in a foreign country or travelling to foreign countries protect themselves with either full expat medical insurance or travel insurance if travelling for periods of less than a year - don't leave home without it - you may live to regret it.
Don't miss out on the latest developments

leave your details below and we'll keep you informed to stay ahead.